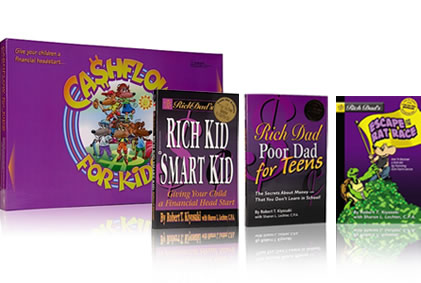 Resources for Future Entrepreneurs
Give your children a financial head start with these products designed especially for young people.
CASHFLOW For Kids Board Game
Schools teach children how to work for money.
CASHFLOW for Kids
is the fun, hands-on board game that teaches children how to have money work for them. Recommended for children ages 6 and older. Includes a bonus book for parents, Rich Dad's Guide to Raising Your Child's Financial I.Q.
Rich Kid Smart Kid Book
At school, your children learn many valuable concepts, yet they are rarely taught anything about finances. Imagine if you had been taught about money and, more specifically, about what the rich know about money - that the way to wealth is through cash flowing assets. Read this book to learn how you can give your child a financial head start in life.
Rich Dad Poor Dad for Teens Book
Picking up where school leaves off,
Rich Dad Poor Dad for Teens
is the secret weapon for teaching your child the way to gain freedom to create wealth and understand how money works. If you are concerned about your child's financial future, you can't afford to pass over this essential book for your teen.
Escape the Rat Race Comic Book
Rich Dad's
Escape from the Rat Race
is a comic-book-style graphic novel that makes important concepts about money, finance, and investing understandable and interesting for kids of all ages. Financial education so fun your kids won't know it's education!
About RKSK
Rich Kid Smart Kid (RKSK) is the youth initiative of The Rich Dad Company – seeking to increase the financial literacy of the next generation of future entrepreneurs. By utilizing games as a means to teach challenging subjects like finance, business and investing, we are training a fresh, new group of business owners and creative thinkers who will become their community's leaders.
The Rich Dad mission is one of education and empowerment. Knowledge is power. The Rich Dad Company is committed to improving the awareness of and opportunities for improved financial literacy for adults and children around the world.
Contact Info
The Rich Dad Company
4330 North Civic Center Plaza,
Suite 100
Scottsdale, Arizona 85251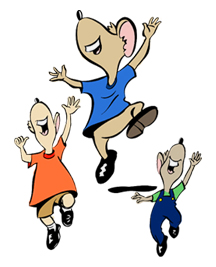 office: 480.998.6971
toll free: 800.317.3905
email:
customerservice@richdad.com
www.richdad.com